Best Culinary Summer Camp in Southern California
Every parent loves to see their child gain a new hobby or passion. When that passion leads them to cook dinner for the family so you don't have to, it's even better. The culinary arts are just that – arts. Like any other artist, a great chef needs a combination of natural talent and expertly guided instruction.
If your child has the first but not the second, this summer is the perfect time to send them to the best culinary summer camp in southern California. Below is a peek into what your child will experience at Pali's culinary camp.
Get Familiar with Commercial Equipment
The best chef in the world would struggle to cook a great dinner if they didn't know how to use the equipment in front of them. As much time as your child may spend in front of your household stove, there are major differences between residential kitchens and commercial ones.
At Pali, we host your camper in our full commercial kitchen, giving them an opportunity to get to know the appliances they can expect to see in a restaurant's kitchen. On top of their initial introduction to the equipment, campers will use it all week, so they'll get familiar with each appliance's applications and quirks.
Expand Their Culinary World
Most families have a lineup of "go-to" recipes that they make on a regular basis, but they don't often try new menus. After all, if you're trying to fit in a family dinner amid a busy schedule of jobs, school, and extracurricular activities, you don't want to spend an hour on a meal your family may not enjoy.
Throughout our culinary summer camp, we have a food theme each day: often a particular culture or holiday. This gives your child an opportunity to expand their pool of experience and learn about foods and new recipes from around the world that are new to them.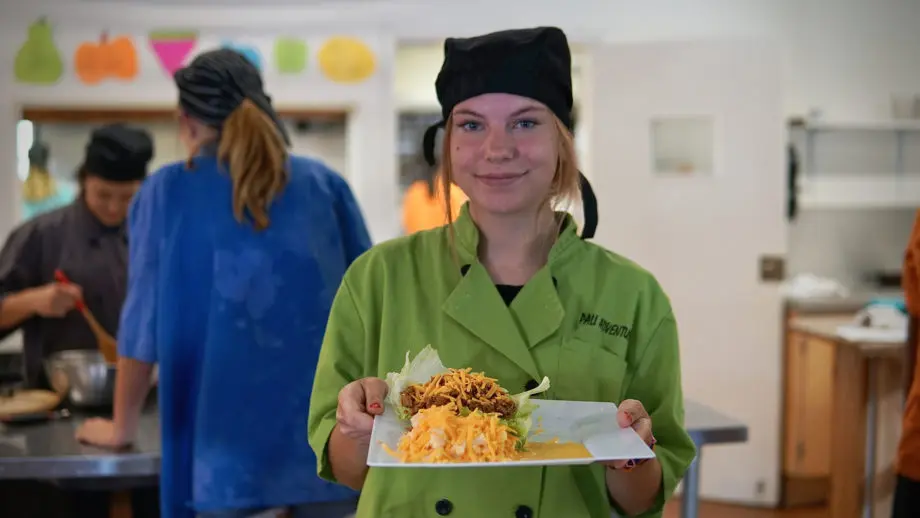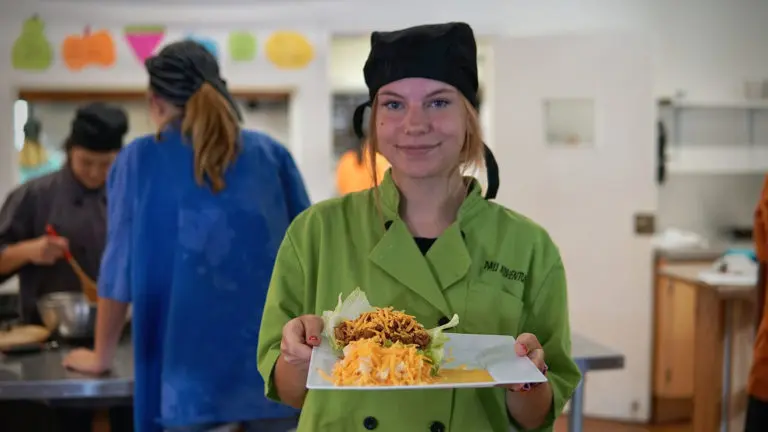 Learn Cutting Techniques
One of the most important and often time-consuming parts of preparing a meal is preparing full meals and cutting the ingredients. At Pali's culinary summer camp, your camper will learn a wide variety of cutting techniques from julienne to spiraling. Throughout these lessons, they'll also gain instrumental knowledge about kitchen knives and knife skills.
Campers learn about various types of knives they may find in a kitchen and when and how to use each one. Most importantly, your child will get a crash course in kitchen knife safety from our expert instructors.
Experience Various Cooking Techniques
From stir-frying to baking, from grilling to pan-searing, there are countless ways to cook food. At Pali, your camper will get a thorough education about all of the most common techniques they may see on a recipe. They'll learn tips for mastering each technique and discover how small changes like heat levels and types of oil can make a difference in their finished dish.
Your child will also discover the effect each technique creates so that in the future when they design recipes of their own, they can expertly choose the best way to prepare the food.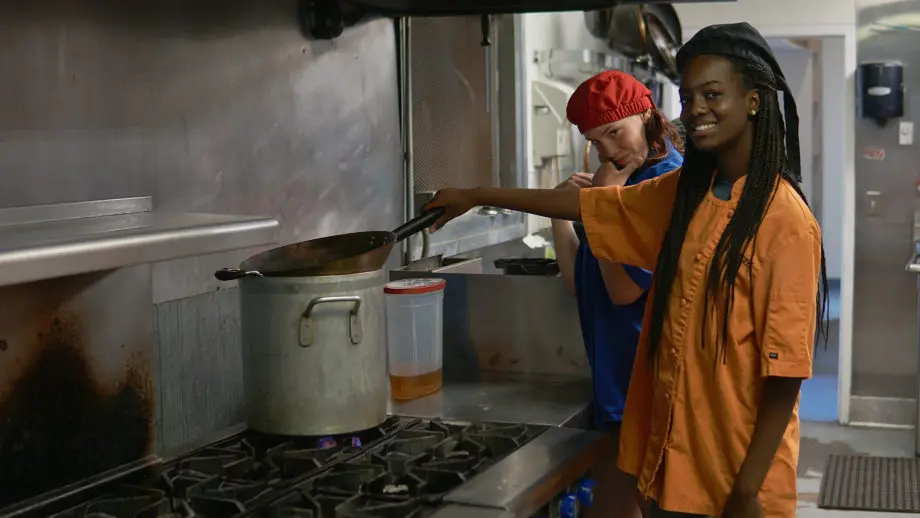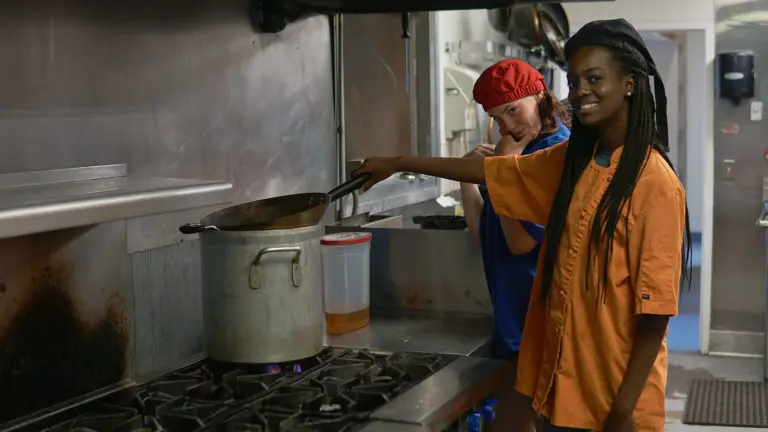 Learn About Food Safety and Kitchen Safety
As fun as cooking can be, there is a lot that can go wrong to make the experience or the finished product dangerous. Our experienced staff of instructors at Pali will teach your child everything they need to know about food safety in our cooking classes. By the end of the week, they'll know what internal temperatures are safe for various types of meat, and they'll know how to store foods in ways that keep them fresh and avoid potential contamination.
At this cooking camp, in addition to food safety, your camper will get classes in other aspects of kitchen safety, such as how to prevent a fire and how to extinguish a fire if necessary.
Make Dishes for All Courses
Knowing how to make a variety of individual dishes is great for everyday situations and improving overall cooking skills. If your child wants to become a chef in the future or become everyone's favorite Thanksgiving host, though, they'll need to learn how to craft an entire multi-course menu. Throughout your child's week at our culinary summer camp, they'll gain experience with cooking appetizers, salads, entrees, and desserts alike.
More importantly, your child will also learn more about crafting their own menu that is cohesive and has a flow that the palate can follow throughout all four courses. They'll also discover how to plan their menu based on the timing of each dish to ensure a smooth preparation.
Experiment with Flavors
As useful as it is to be able to follow a recipe like a pro, every great chef loves to create their own masterpieces too. The only way to do this is by knowing what options you have and getting creative. At Pali's culinary summer camp, we'll introduce your child to an extensive line-up of flavors, from herbs and spices to versatile go-to ingredients.
They'll find out how these flavors and ingredients taste and how they interact with each other. With that expanded knowledge, your child will be able to enhance any dish with a flavor that complements it or transforms it into an entirely different taste.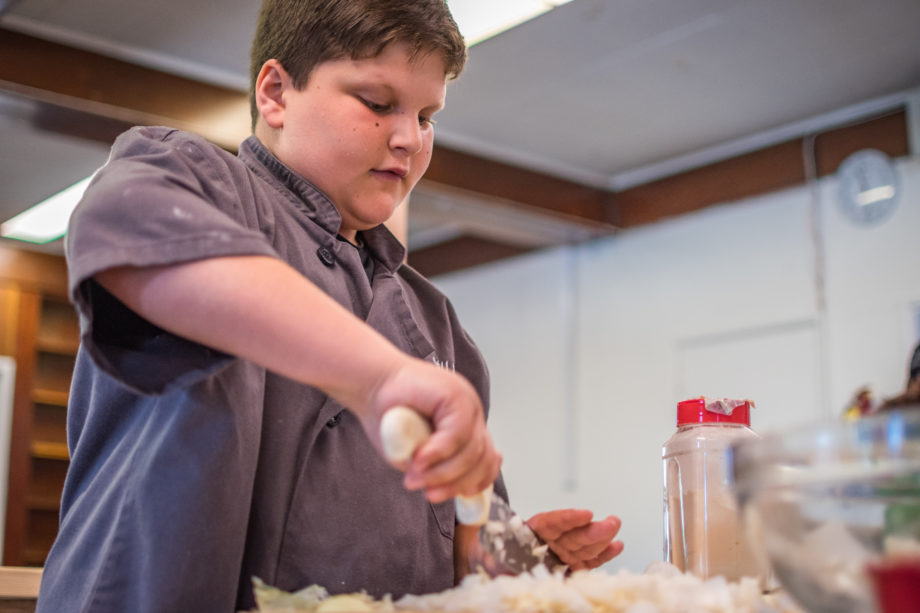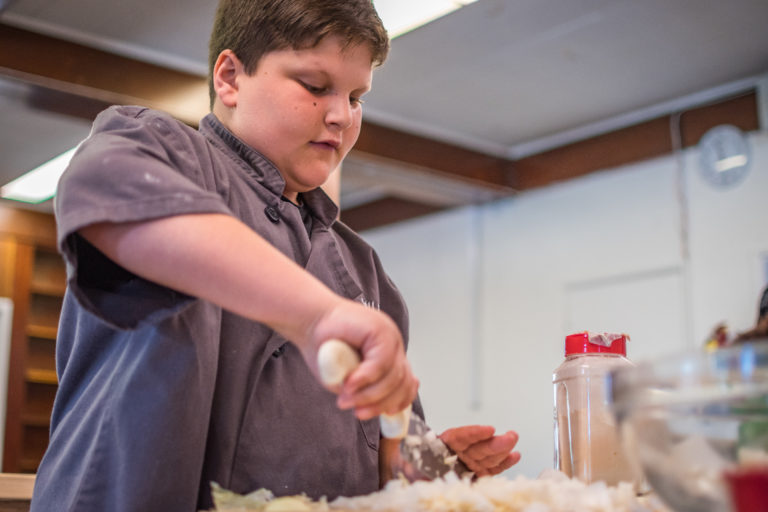 Finale Cooking Competition
No Pali camp experience is complete without an opportunity for our campers to put their new skills to use, show off their new culinary arts knowledge and that includes our culinary summer camp. At the end of their week with us, all of our chefs-in-training will compete in a creative cooking contest. Working in small groups, our campers battle it out in "Iron Chef"-style cooking challenges, relying on our judges to choose the winning dishes and crown a champion team.
As much as kids love competition, every child goes home as a winner after our culinary summer camp. After all, they've spent a week learning their way around a kitchen and making us of their passion for cooking, great food, and the joy that it brings. If your child has shown a love of culinary arts, cooking or baking, you can make their summer brighter and more productive by gifting them with the best culinary summer camp in southern California. To take the next step, contact Pali Adventures for more information.
Not What You're Looking For?
If this specialty didn't absolutely blow your mind, take our quiz or give us a call to find one that will!