Best Fine Arts Camp in Southern California
There's a difference between fine arts and arts and crafts. Arts and crafts are what your child does at school when they bring you home string necklaces with painted macaroni on them.  And while those are cute (but they don't age well), that kind of art doesn't build lifelong skills. If you're tired of storing art that's just as much food as artwork and your child's favorite subject is art class – we've got a camp for you.  Our fine arts program exceeds what your children have done at school and other art camps. We're talking about mosaic making, stained glass, and even real (and not edible) jewelry.  We encourage expression in a different medium each day. Want to learn more about the best fine arts summer camp in Southern California? Read below. 
Why is Art Great for Kids? 
Like anything in life – art isn't a one-dimensional activity. Your child isn't just learning how to create something, they're creating and fostering different skills within themselves.  Art boosts confidence in kids of all ages, and confidence is a direct link to happiness and school performance. There's something so satisfying about making something you're proud of and getting to show it off.  Art also promotes problem-solving skills – when you're making something that requires many different pieces (like mosaics) you have to plan ahead. Practices those skills and putting together artwork in different mediums help children foster this essential skill.  Some of the masterpieces your child makes, like their jewelry, are something they can wear and show off to friends. All works come home with your child at the end of the week.  Here's a little bit about what they'll bring home.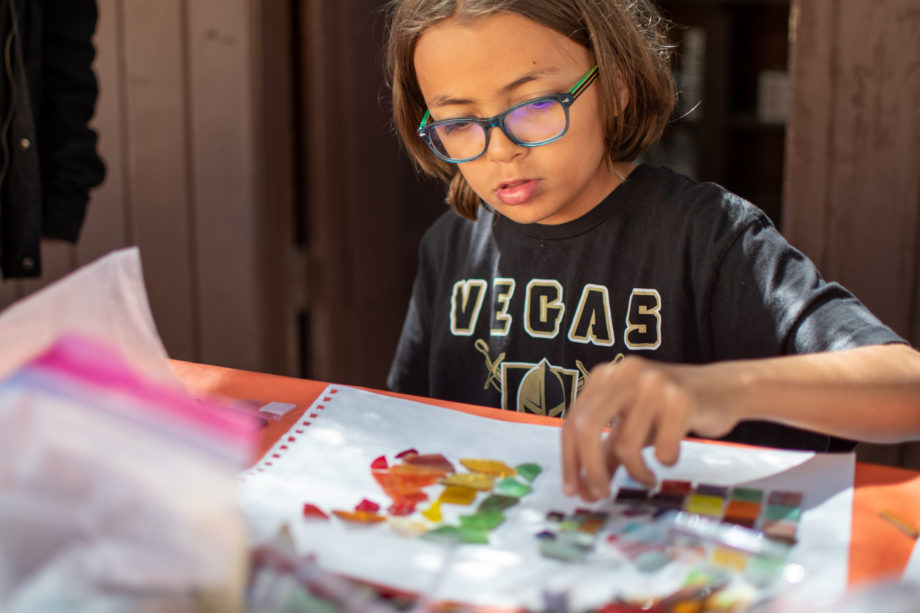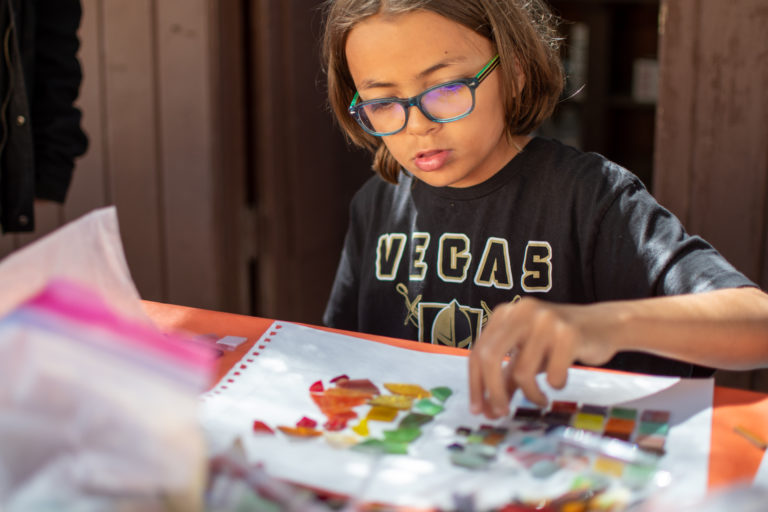 One-of-a-Kind Jewelry 
If you have a child that just can't seem to stay out of your jewelry box, they'll love the unit we do on jewelry making. Our students get to use top-of-the-line materials, like glass beads and metal wire to create their wearable art.  Many of our students choose to give their creations to their parents, so don't be surprised if your necklace or bracelet collection gets a little bit bigger.  Our students even have access to beads that fit on metal chains, for a very professional final product. 
Acrylic Paintings on Different Mediums 
There's a difference between painting a picture on construction paper, on a canvas, and on another medium altogether. Each one requires a slightly different technique.  Painting on canvas, for example, requires more paint and more consistent brush strokes than pointing on paper.  Your children will learn how to mix colors properly and how to apply them using different tools – the paintbrush isn't the only way to deliver paint.  And if they find something else they want to paint, like a big, flat, rock for their front step or garden – that's encouraged as well. We don't say no to creativity here – so if they have a vision, we'll do our best to make it come to life.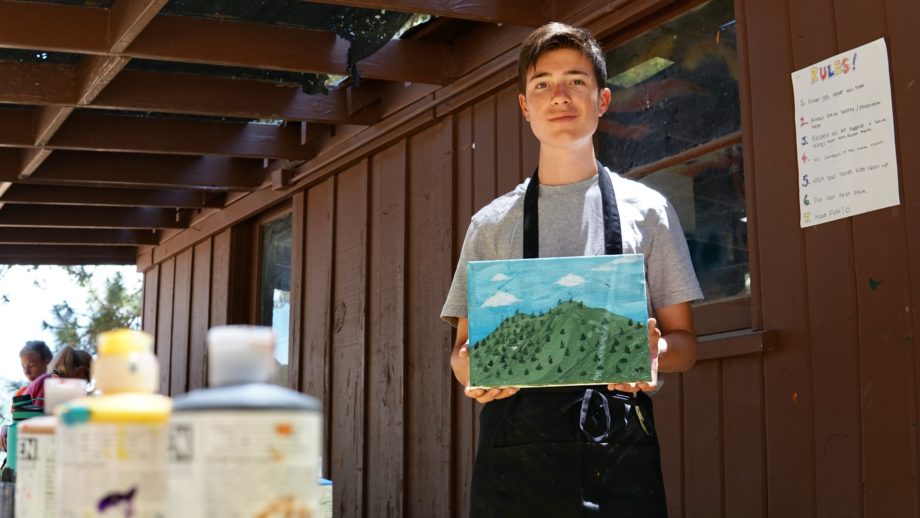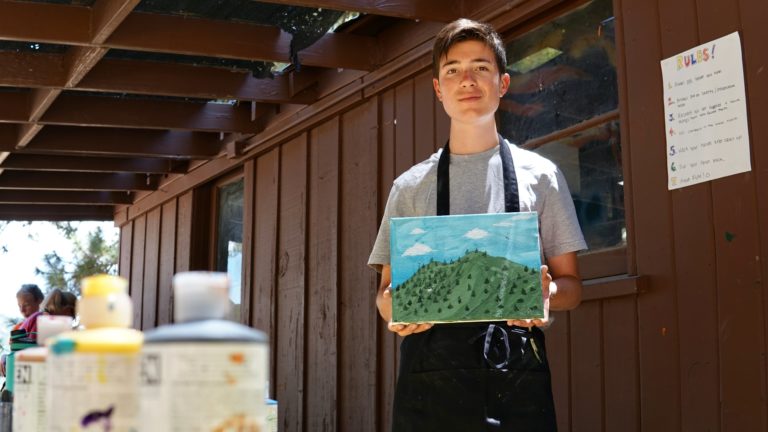 Sketch Charcoal Drawings
Drawing, sketching, and using graphite (or charcoal in this case) is one of the oldest types of art. Even famous painters like DaVinci sketched before they painted. Your child will work on creating likenesses of landscapes, portraits of friends, and even themselves.  They can use these sketches as templates to paint from, or leave them in their raw form.  If your child really loved doing these drawings, take them to an art museum when they get home and have them bring a sketchbook. Sitting and copying famous works of art is a great way to work on their skills. 
Stained Glass Creations 
Stained glass is not easy to make. You have to have the right shapes of glass and know how to cut it – without hurting yourself. Safety is our number one priority, even over creativity – so we'll make sure they're doing everything correctly and with the right supervision. Gloves and eyewear are required for parts of our stained glass unit.  After they go through the process of choosing and cutting glass pieces, they'll have to figure out how to join them together. That's one of the trickier things about stained glass – you have to put things together in a way that minimizes any blocking of light.  Once they've cut their pieces and mapped out their designs, they'll put them together and add a way to display them. Because of the way colored glass looks with the light shining through it, many campers choose to hang them on or in a window.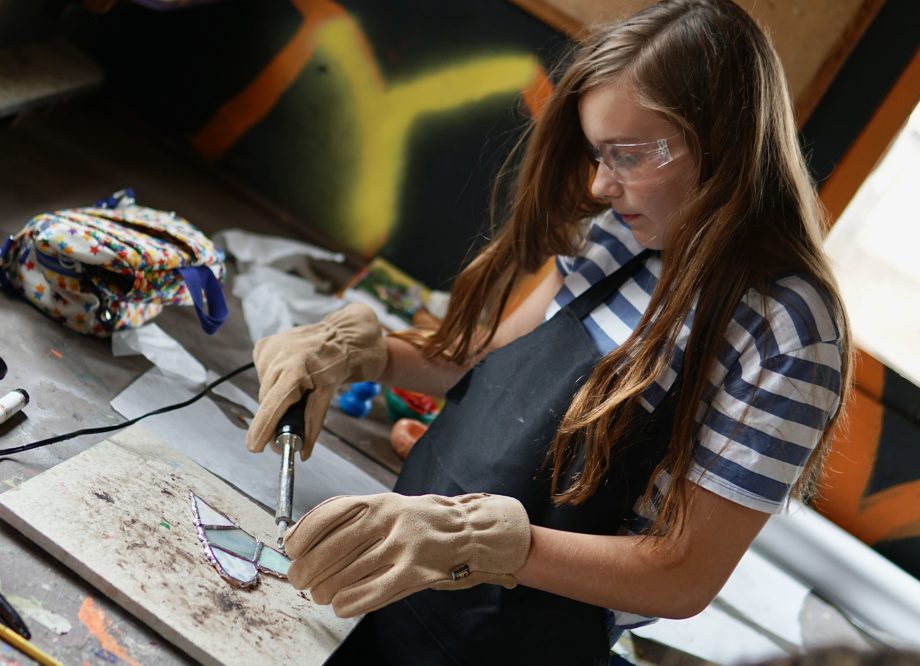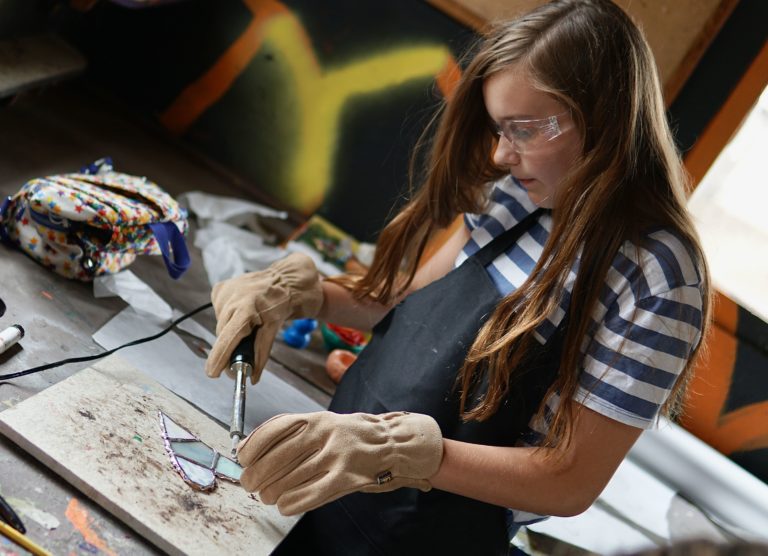 Mosaic Making 
Another complex art medium is mosaics. We see them all around the world, on things like plates to giant works of art like the bottoms of fountains.  Your child will make their mosaic on a tile coaster, or something a  little bigger. They'll learn how to cut the pieces of glass they need and attach them by hand. Then they'll grout them (or not, depending on the look they want).  You can use these tiles to protect your table — or display them as the works of art they truly are. That's the beauty of a mosaic, it's functional art. 
Best Arts Summer Camp
After time at our fine arts camp, your child will come back as an even better artist than they were before. But more than that, they'll have the confidence to identify as an artist as well.  You'll be able to see everything they worked hard on and display it in a special spot in your home. They'll have had fun, made lifelong friends, and boosted their confidence.  While they're doing that, you can have a week or more to yourself – and mornings to sleep in. Everybody wins when you enroll in the best fine arts summer camp in Southern California! Questions for Pali Adventures?  Click the box to your right to get started!
Not What You're Looking For?
If this specialty didn't absolutely blow your mind, take our quiz or give us a call to find one that will!