Best Flying Trapeze Summer Camp in Southern California
Tucked in the forest of Southern California, you'll find a variety of fauna and wildlife along with a nifty trapeze set.
In the midst of a beautiful forest setting, you will find the best flying trapeze summer camp.
If you have a child who attempts regularly to jump from high structures or who does more circles on the monkey bars at school than you can count, flying trapeze summer camp may be right up his or her alley.
A flying trapeze summer camp offers an experience unlike any other summer camp. Read on to learn more about this amazing experience and truly unique camp.
Equipment
Flying summer trapeze offers more than just monkey bars. In fact, you cannot find a monkey bar nearby.
Instead, campers are greeted with two full-size trapeze rigs. Best of all, campers have the outdoor experience of looking into a blue sky framed by tall, verdant trees as they fly through the air on a trapeze.   
As you would expect, the full-size trapeze rigs come with safety lines and netting. No trapeze camper will begin climbing the ladder until he or she has a harness secured.
Additionally, flying trapeze camp has silks, lyra, and hammock sets in our aerial silks pavilion. Your camper will build strength and grace with silks, lyra, and hammock.
If you have a child at home who has shown any interest in ballet or gymnastics, summer flying trapeze camp will help him or her build additional strength and poise. Call it cross-training for gymnasts and dancers.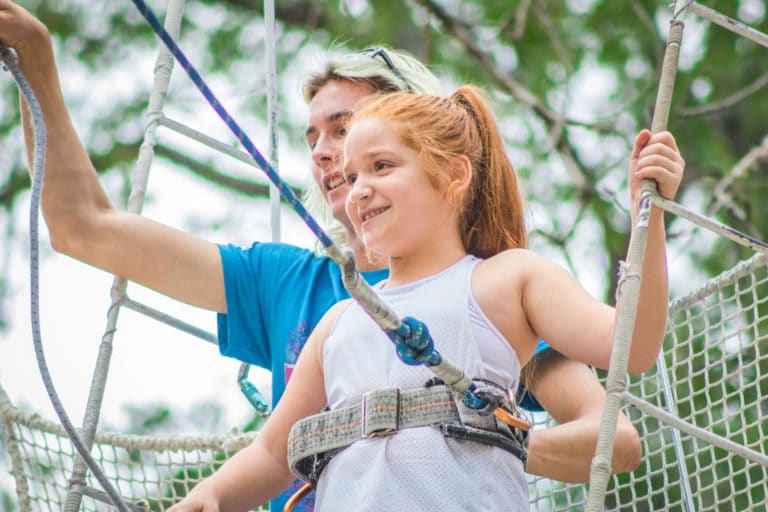 Physical Strength
Flying trapeze requires a great deal of physical strength. The most successful trapeze artists have smooth, lithe muscles with incredible flexibility.
Flying trapeze camp will help a camper build muscle and flexibility while having fun.
Your little dance artist may come home with some new skills as well as a big grin. Can they land a backflip? At summer flying trapeze camp, some of our campers come home landing a triple backflip.
Campers will learn to hang, fly, and catch all in one week.
Confidence
If you have a shy kid on your hands, flying trapeze summer camp will help him or her build major confidence. Parents will be surprised to see their campers come home with a new found courage that spills over into other areas of life.
Flying trapeze camp helps campers to conquer their fears. Not everyone can jump from a ladder and swing through the air. This camp teaches campers to take appropriate risks and then accept the rewards that come in turn.
When a camper has the courage to participate in flying trapeze, he will end the week with a rewarding and fun experience.
If you have a kid who fears stepping out and doing his own thing, consider flying trapeze camp. This camp teaches campers to exercise independence while trusting others.
Think about it: a camper will learn to trust himself, to believe he can complete a difficult flip or turn while believing his partner will catch him with a firm grip. In flying trapeze camp, you have the perfect blend of teamwork and independence.
Independence also leads to self-awareness and self-confidence. Your normally shy kid will learn about his or her own abilities and will learn he or she can complete difficult tasks.
As a result, you may have a camper come home willing to try other new things.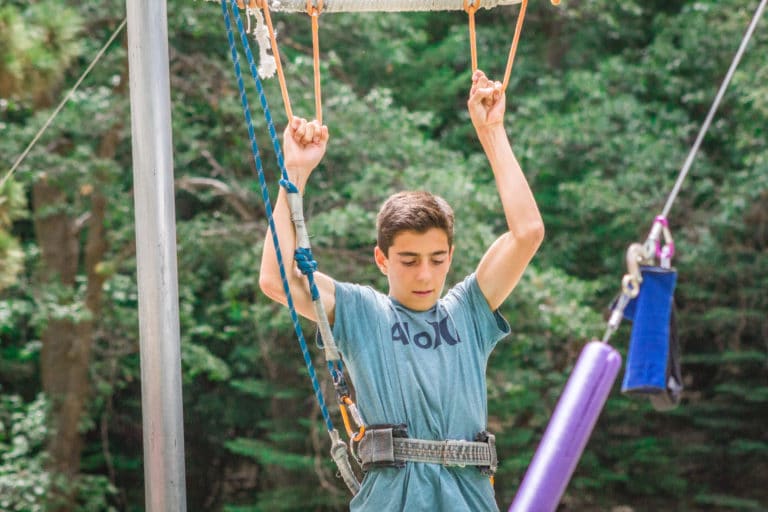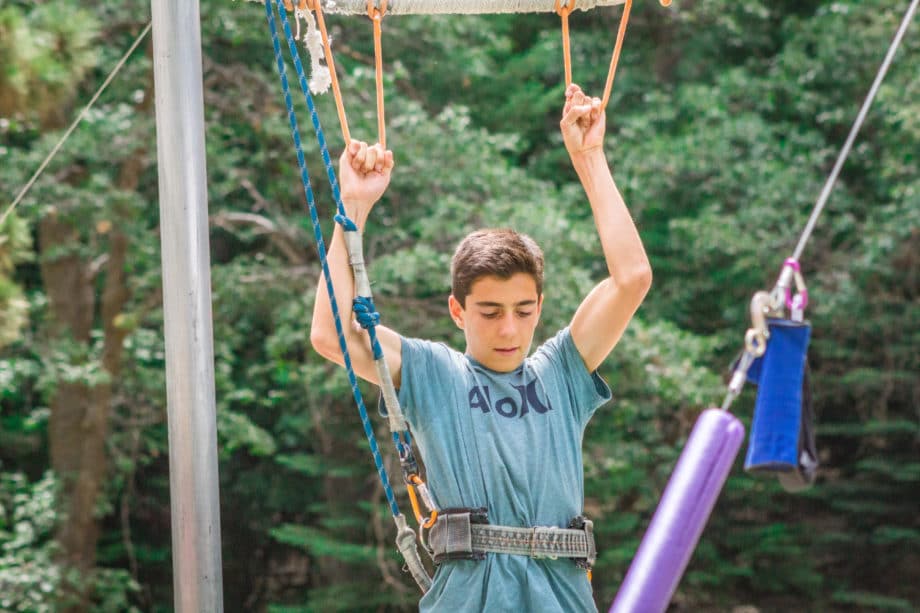 Friendships
Sleepover camps like flying trapeze summer camp will help foster friendships unlike a typical day at school.
When your child goes to school, he's set in a controlled environment, learning for seven hours a day with his peers. He does not have much time to build friendships.
At summer camp, though, he or she will have time to foster friendships with like-minded kids.
Additionally, environments define us. When placed in a peer group, kids quickly take on whatever role their peers put them in. So the shy kid stays the shy kids. The obnoxious kid stays the obnoxious kid.
When you go to camp, though, you're in a new environment. You have a chance to remake yourself.
With flying trapeze camp, the new personality comes into play even more. New challenges such as flying trapeze will unearth parts of a camper that he or she may have not known existed.  
Boredom Buster
Parents dread the "there's nothing to do here" comment or "I'm bored."
Flying trapeze summer camp can save you from the whining for at least a week if not more.
Campers enter the camp with wonder and leave with skills. Even the return campers will comment on how there is always something new to do.
Additionally, flying trapeze summer campers learn critical thinking skills. They have to figure out ways to move smoothly in the silks or to release and grab on the trapeze.
As with life, the tricks the camper learns may not go exactly as planned. In those split seconds, campers learn how to make fast decisions with little information.
They're not just swinging on bars. They're learning building brain power.
Summer flying trapeze campers will experience a unique adventure. How many kids come back from summer break saying they perfected their circus skills?
Campers do not complete the same tasks daily. Rather, they constantly work on acquiring new skills and progressing from one trick to the next.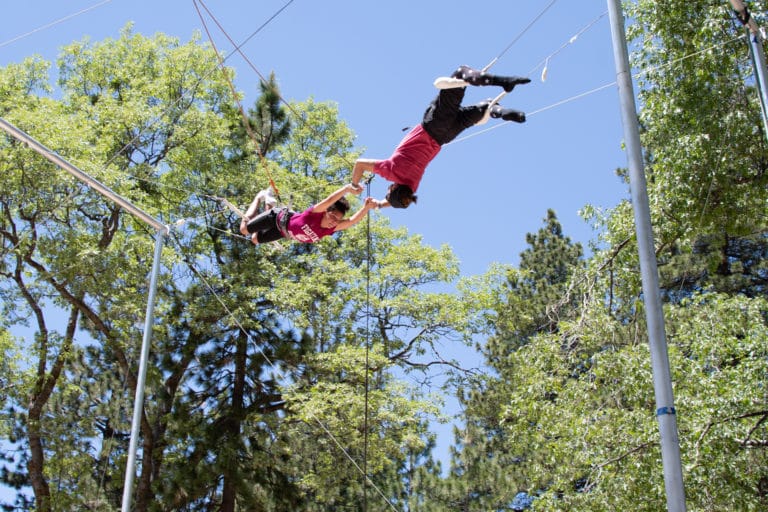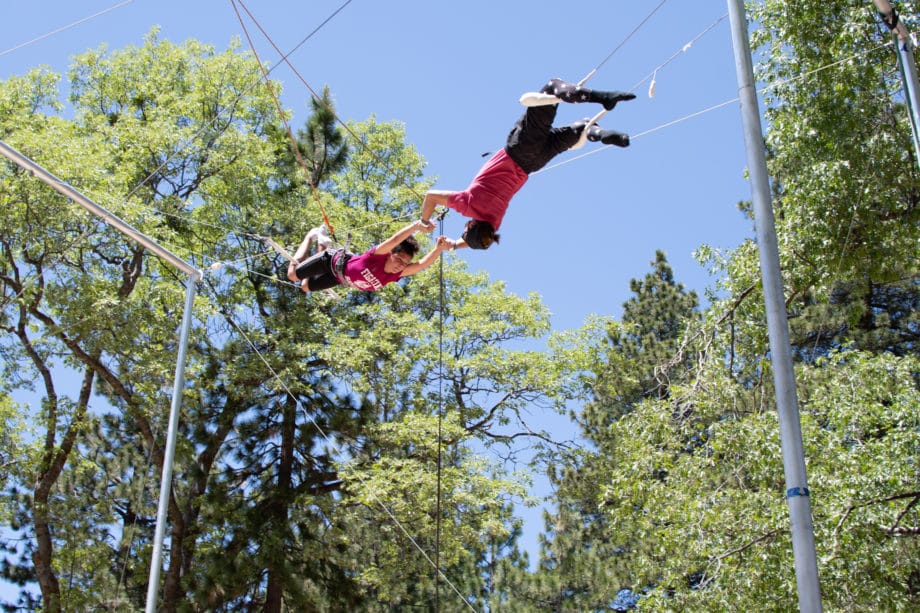 Safety
Safety is a priority at the best flying trapeze summer camp. We have a registered nurse on site 24/7 as well as a fully stocked infirmary. The closest hospital, urgent care, and EMTs are just a short drive away.
Additionally, our amazing, talented counselors carry walkie talkies with them at all times.
A great flying trapeze summer camp keeps safety a priority.
The Best Flying Trapeze Summer Camp
If you'd like your kids to gain confidence and to develop strength, flexibility, and balance, consider the best flying trapeze summer camp. If you're interested in our camp, click on the chat button on the bottom right of this page. We'd love to chat with you.
Not What You're Looking For?
If this specialty didn't absolutely blow your mind, take our quiz or give us a call to find one that will!