Best Girl Power Camp in Southern California
There really are no limits to what a girl can do! Every young woman needs to hear this at some point in her life, especially adolescent girls. Pre-teens and teenagers often struggle to feel empowered, confident, and in tune with who they are. That's where girl power summer camp comes in. With this girls-only camp program, campers connect with a powerful sisterhood through thrilling activities and peer bonding. If you're thinking about signing your daughter up for Pali Adventures, you may be unsure about which program to select. In this post, we discuss the ins and outs of the best girl power summer camp and why you should have on your list!  
The Essence of Girl Power
"Girl power" has actually made its way into standard dictionaries! In general, girl power refers to young women's confidence, independence, and empowerment.  Girl power goes beyond cute slogans on t-shirts. It encourages every young girl to tap into her innate strength and capability. In fact, it coaxes young women to carve out their own paths, not the paths society outlines for them.
Many young women struggle with self-worth, battling confidence issues as early as eight years old. These issues can become more intense throughout middle and high school, having a lasting impact on a woman's identity and world perspective. By embracing her own girl power, a young woman can develop tools for navigating confidence issues and societal norms. Girl power also encourages young women to seek out exhilarating activities that prove their strength and resilience, such as high ropes courses, water sports, and paintball. Parents, mentors, and friends can all help young women experience their inner power.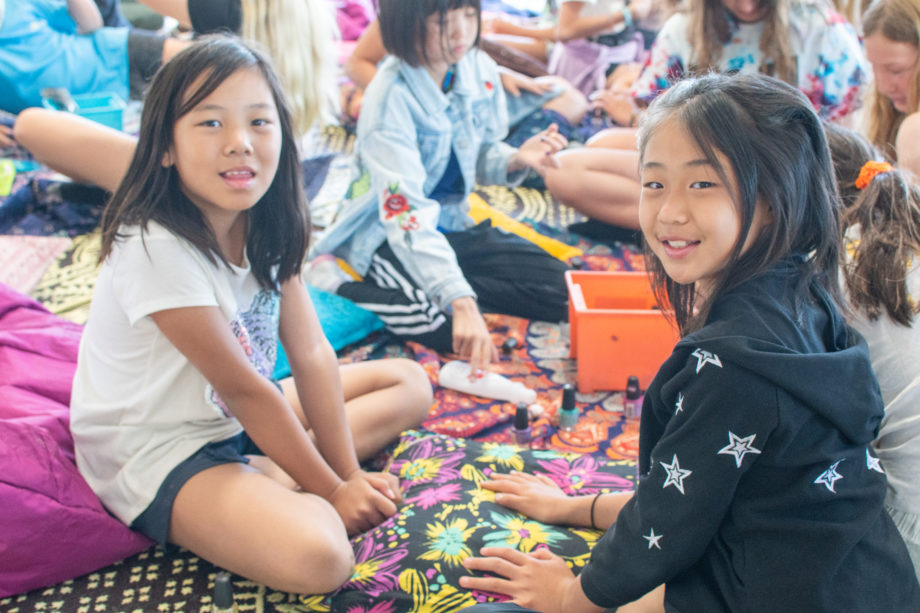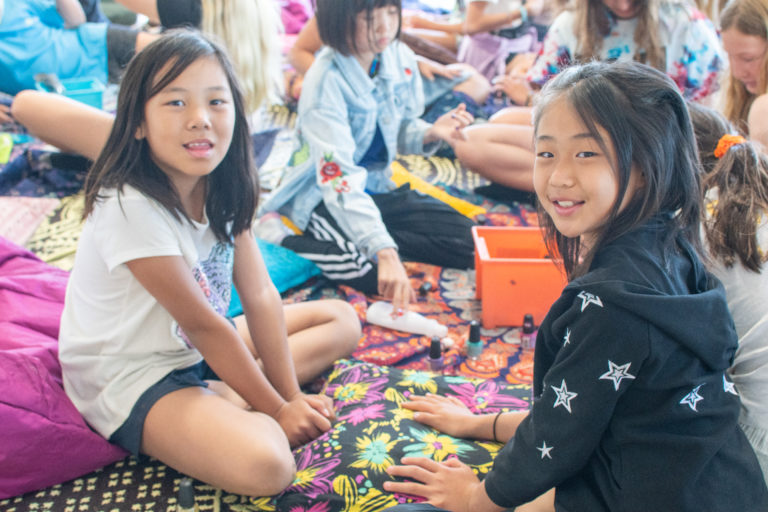 What is Girl Power Summer Camp?
Girl power summer camp is designed to empower and celebrate all campers through a wide range of thrilling, fun activities. In fact, every single activity in a girl power summer camp program caters to each camper's unique identity and spirit! Girl power summer camp is a girls-only camping experience. Our program has the essence of young women's empowerment at its core, helping to build campers' self-confidence and understanding through collaborative group activities.
Our girl power summer camp here at Pali Adventures, for example, brings campers together through challenges, adventure, and good fun. Girl power campers can test their balance, resilience, and teamwork on a high ropes course and celebrate afterward with smoothies and manicures. We encourage all of our campers to eradicate their fears by zooming around Pali's ATV tracks and ziplining the afternoon away with friends.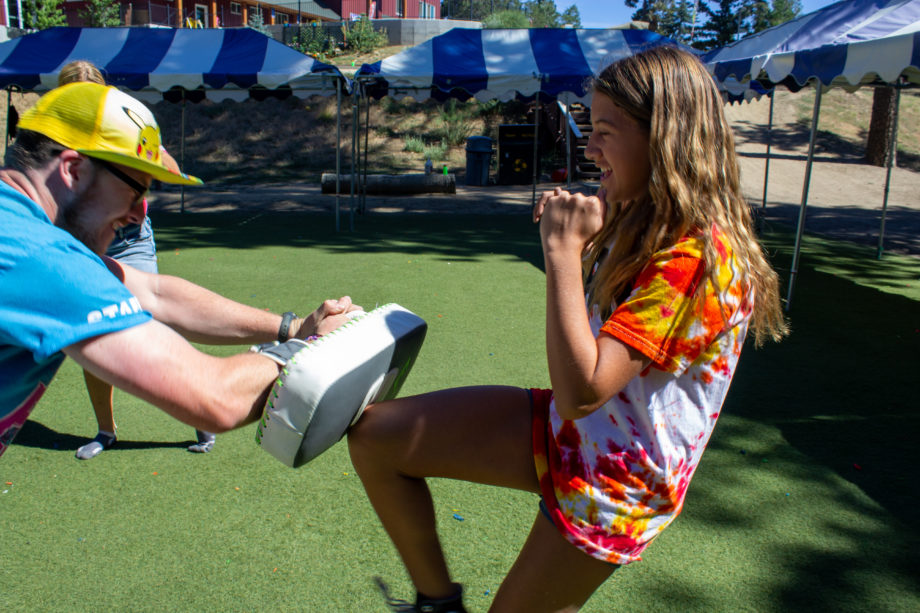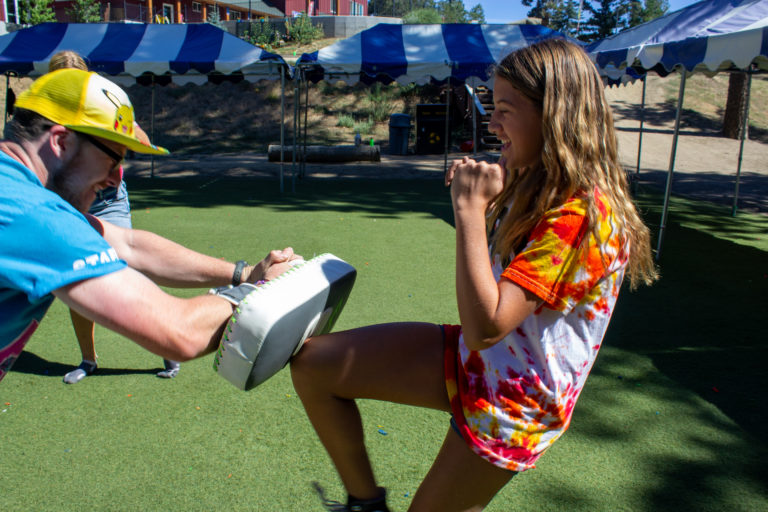 The best part? Girl power campers learn basic self-defense moves, setting them up for a confident, fearless future.   The best girl power summer camps create a powerful sisterhood. Through fun and self-exploration, every participant leaves girl power summer camp with lasting friendships.  
What the Best Girl Power Summer Camp Involves
You know your daughter will love Pali Adventures. But which program should you choose?  The best girl power summer camp has the following characteristics.
A Diverse Range of (Challenging) Activities
True female empowerment comes from realizing that you can try anything, regardless of what anyone else says! The best girl power summer camp thus offers campers a range of activities as diverse as its participants. Most importantly, these activities should coax campers to step outside of their comfort zones. Adventure-oriented activities can encourage young women to see their own resilience while confronting challenges.  With a diverse range of activities, campers can also experience the power to choose–and to choose to do something that may feel initially difficult! This can help shift a young woman's mindset from "I can't" to "I definitely can."
Movement
Girl power comes in all shapes and sizes, just like women themselves! It's important to find a summer camp program that explores empowerment through multiple channels. For example, young women may find it difficult to feel comfortable in their own bodies, especially if they are navigating low self-esteem. Activities that encourage campers to get up and move, and move fiercely, can be a wonderful way of developing body awareness and confidence. We're not just talking about exercise, either. The best girl power summer camps integrate activities that foster physical strength, such as self-defense techniques, skateboarding, and paintball.
Independence
Girl power is all about understanding your own ability to navigate the world successfully, without depending on others. The best girl power summer camp cultivates this sense of intelligent independence. Campers experience this simply by signing up for a summer camp program, which will give them a taste of life away from home. But girl power summer camps should also help campers develop this quality through various activities that emphasize leadership, self-awareness, and confidence.  
The Best Girl Power Summer Camp
What is the best girl power summer camp out there? At Pali Adventures, we offer a summer camp program designed to give young women an unforgettable, fiercely empowering experience. Plus, our girl power summer camp program is simply fun! Even young women who don't consider themselves to be adventurous are likely to enjoy the thrills at the heart of our program.
Ropes courses, water sports, ATV driving, and trapeze arts are all possible activities, giving your daughter an opportunity to cultivate self-awareness and physical strength. Our program balances physical adventure with rejuvenation, so your daughter can look forward to a spa day, great girl talk, and yoga sessions.
We really do want each of our campers to leave our program feeling inspired, prepared, and self-aware. That's why we infuse our entire program with the spirit of empowerment. Our counselors and leaders ensure that every camper feels supported and motivated, no matter which activities they choose to pursue.   With this girls-only program, campers can rest assured knowing they'll be stepping into a non-competitive world of fun. For this reason–and many more!–we're confident our girl power summer camp is the best one out there.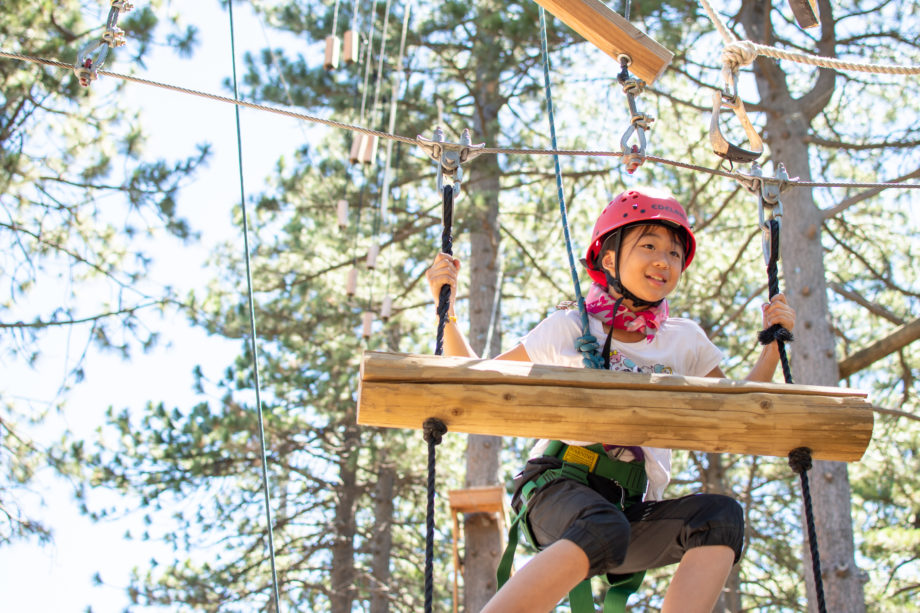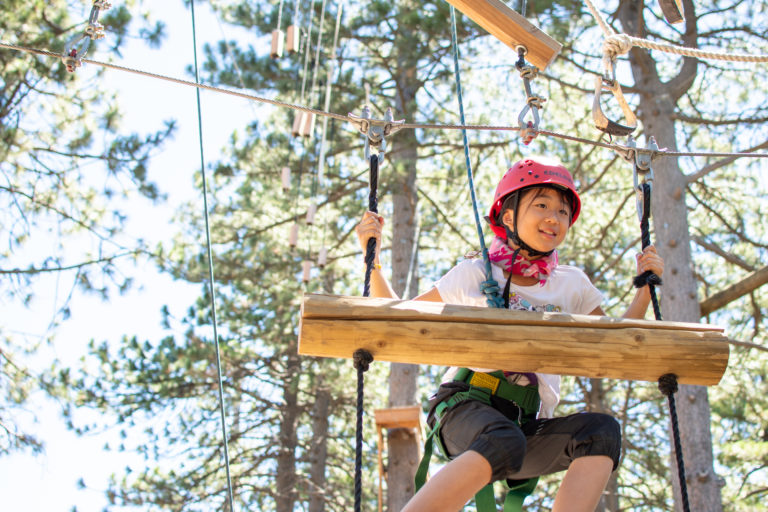 Want to Learn More?
Are you ready to give your daughter the gift of girl power? Cultivate a lasting sense of empowerment early on by signing your daughter up for Pali Adventures girl power summer camp. We're that confident in our program's ability to impress and inspire!  Learn more about our program by clicking the chat box to the right.
Not What You're Looking For?
If this specialty didn't absolutely blow your mind, take our quiz or give us a call to find one that will!