Best LARP Summer Camp in Southern California
You know that psychologists have long recommended creative and imaginative play as necessary for early child development. Did you know that it is also recommended for older children and teens for brain development? You've heard of Dungeons and Dragons, right? That's because it's the most famous role-playing game there is. In fact, it's what's created the LARP universe and niche we see kids enjoying today.  LARP or live-action role-playing is a true exercise in creativity and strategic thinking. It takes a lot of brainpower to develop a character and respond to events that are only real on a piece of paper and in our imaginations.  Kids will learn how to problem-solve, they'll build up their confidence, and they'll have fun while doing it! Here's a little bit more about what LARP camp is. 
Why Engage in LARP? 
Live-action role-playing, to those who don't play it, can seem complex and even silly. But if you think back to before there were toys and screens, that's the kind of playing we were all doing as kids.  Whether you called it sharks and minnows or cops and robbers, re had the most fun when we created an imaginary universe. And it's healthy for our brains, too.  When you activate the creative centers in your brain through imagination work, you get the same benefits as you would if you were doing traditional art.  But unlike traditional art, LARP is community-based and social. Kids learn how to work together as their characters in certain situations. And they have to learn to work together as regular kids to come up with those situations in the first place.  It builds their problem-solving skills, critical thinking, and social skills – all in one week! Here's a little bit more about what LARP camp consists of.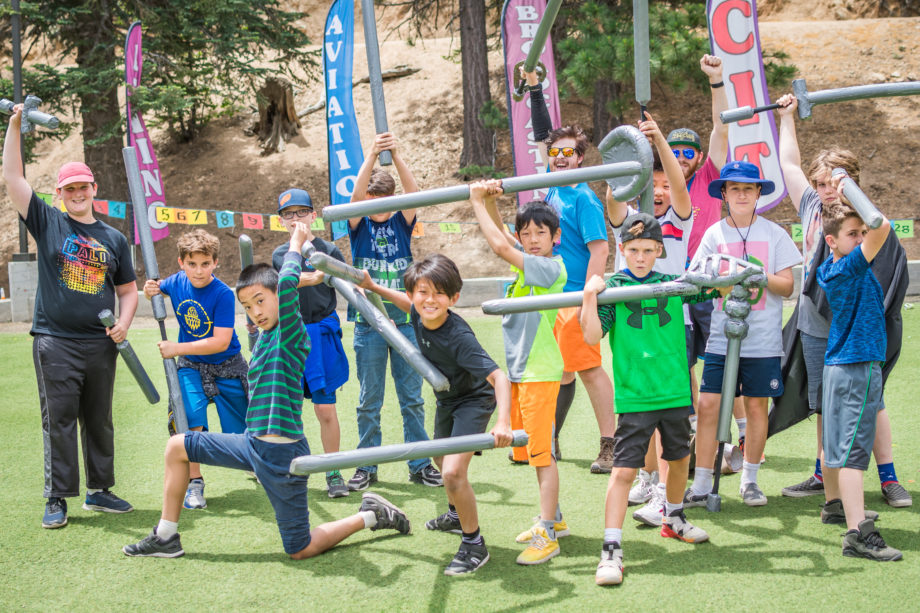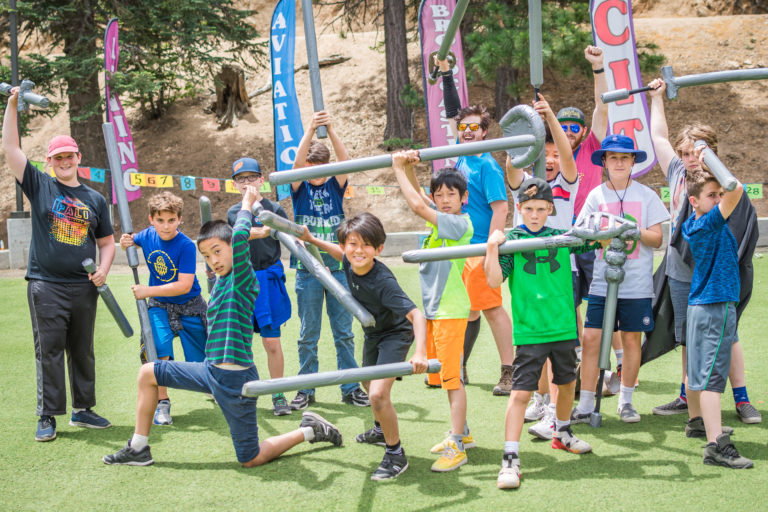 Starting Out
In a way, LARP development is a lot like writing a story or a film. You have to develop the characters and give them different traits. Then you have to come up with skills and figure out how the characters will interact.  In LARP, the characters are your alter-ego, who you'll play the games as. You develop them as you play, but it starts on paper. This is essentially a practice in creative writing and planning – which both bode well for school skills.  Once the character is created on paper and your child is happy with them, they'll. . . 
Create Their Own Costumes 
Playing dress-up when you're a kid is one thing. You can put on different outfits and pretend you're someone else – but you're at the mercy of whatever outfits there are.  At Pali Adventures, your child is only limited by their imagination. They'll learn basic costuming skills and have all our materials at their discretion. Our counselors will help them take sketches or idea and make them into something they can wear for the rest of the week.  They'll make whatever they need to get into character  – from a full outfit to a headpiece. Whatever they make, they can take home and keep developing their character and their skills outside of camp. 
Create Their Own "Weapons" 
In LARP, you don't use real weapons (obviously). It's about playing and pretending, not hurting people. And so, campers will create what we call "boffers". They're foam wrapped and blunt so that no one gets hurt.  Their weapon can be customized to their character and even match their costume if they want. They'll keep it and use it in scenes throughout the week. When the week is over, they can bring that home as well.  We'll even teach the roleplay fighting – where the goal isn't to hurt other campers, it's to put up a good and classic fight. We'll teach about where is and isn't okay to hit, and about when it's time to back off.  Kids will love getting to sword fight without fear of hurting anyone. When you can swing a sword in character, with a costume on, it really makes you feel like you're living out your fantasy.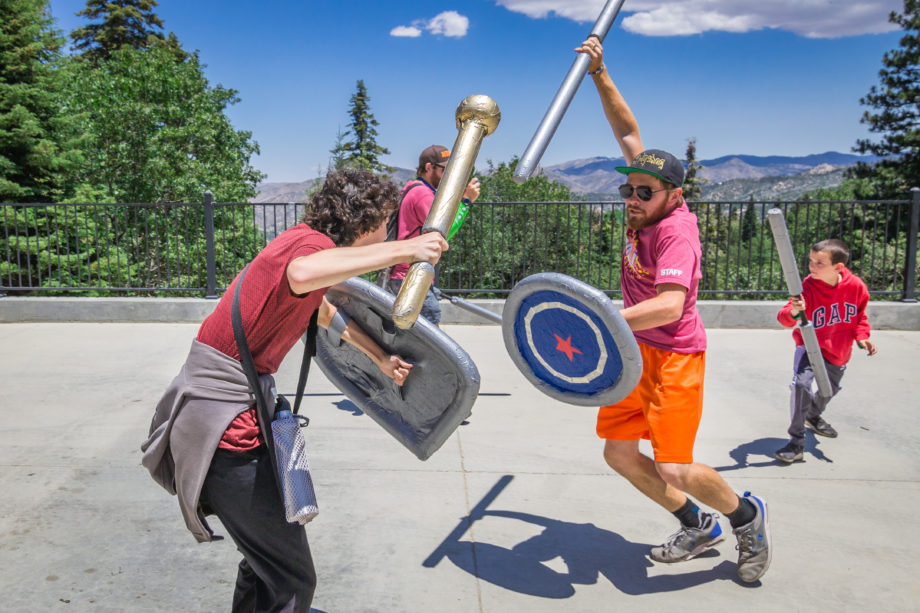 Practice Decision Making on Quests 
One way LARP games work is with dice and quests. Your game master or Dungeon Master, if you're playing D&D has a book with different challenges.  In our case, the counselors are the dungeon masters, but kids do get to help choose their own adventure. They'll build campaigns and choose quests with their fellow campers and then play them out.  The best part of LARP is – it's not a steep learning curve. If you think your child would love to LARP it up, you can have them take our specialty quiz to see if it's a good fit. Our counselors will have them at the same level as other kids in no time.  Who knows? Maybe they'll have beginners luck and win the whole quest! 
Branch Out
As much as our LARP camp attendees love to live in their fantasy world, our goal at Pali Adventures is to provide every camper with a diverse camp experience that is exactly what they want it to be. To that end, each camper has the opportunity to choose several of our popular electives.  We offer over 70 elective opportunities that many of our campers wouldn't be able to experience in any other settings. Your child can experiment with arts and crafts.  Learn to make fun dishes in our culinary class. Fly through the air on a zip line or a trapeze. Hit the water. Learn to make beautiful music. Each day of their camping experience is a new adventure.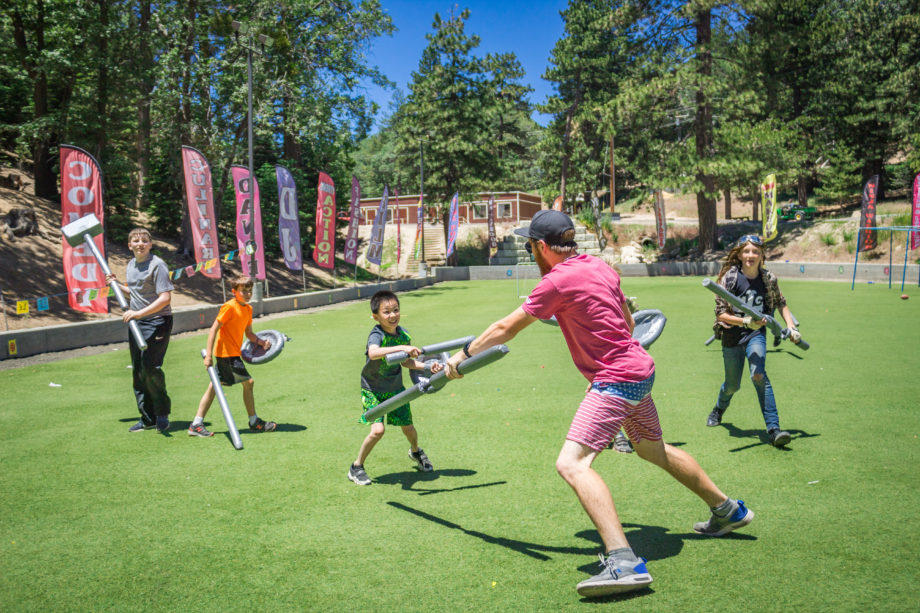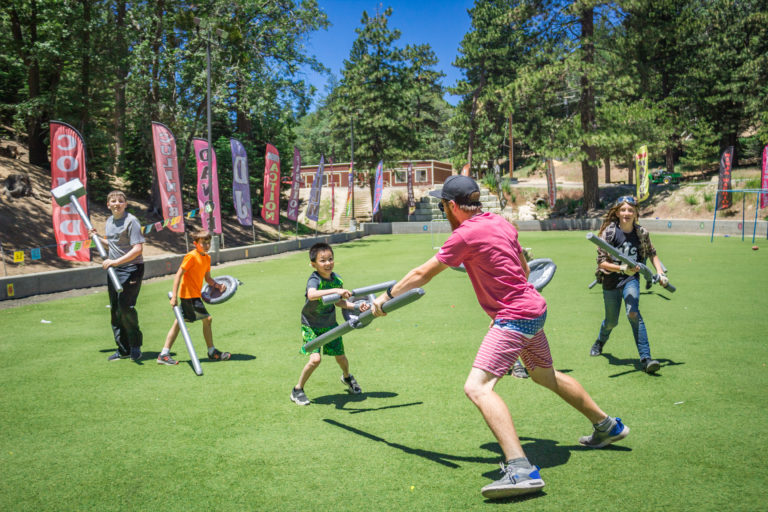 The Best LARP Summer Camp in Southern California 
Does your child need some help developing their character, their imagination or they just want to spend a week doing LARP with new friends?  Then you have to get them to Pali Adventures for our LARP specialty. Our kids have nothing but awesome things to say about the program.  While they're there they'll stay in our temperature regulated cabins and eat food prepared by our chefs. Click the chat icon to talk to a parent liaison about what sleepaway LARP summer camp can do for your child and their confidence.
Not What You're Looking For?
If this specialty didn't absolutely blow your mind, take our quiz or give us a call to find one that will!