Best Stunts Camp in Southern California
Does your child love action movies? Are you always weighing if you should take them to those types of movies, even though they might be a little old for them – just to see their eyes get huge when a stunt or fight scene comes on screen?  There's a better way to support their passion, and it doesn't involve overpriced popcorn or PG-13 language. It's the Pali Adventures Hollywood Stunts camp.
At our camp, instead of just watching stunts on a screen – your kid will get to do them (in a safe environment). They'll learn how to do falls and use props for an ultra-realistic performance. Once they've worked out the performance, they'll stun their fellow campers with their skills. Learn more about the safety procedures and what kind of stunts your child will be doing below.
Stunt Camp Details 
Your child will do everything from mastering shoulder rolls to learning fight scenes. We have safety equipment for falls they can practice from up to 30 feet in the air.  Of course, your child will be harnessed and supervised during every session (where' it's appropriate). Our practice weapons are blunt and used for performance purposes only.  Kids in this program will learn how safety comes first when it comes to stunts.
They also learn that if safety planning is not done – they don't get to do the stunt until it is.  Your child will get personalized coaching so that they're 100% prepared for every act. The mats we use for safety are professional grade.  So that even if it looks like there's a potential for someone to get hurt – they want with the right technique.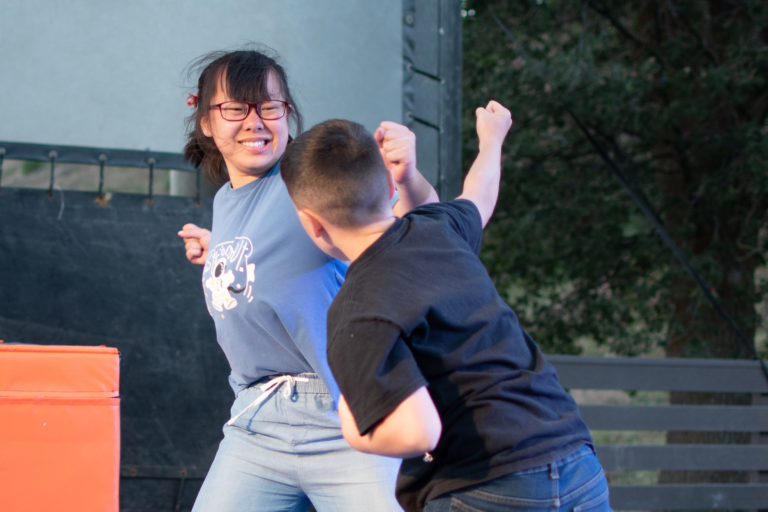 What Do Stunts Teach? 
We all want our child to learn skills they can use as they go into their adult life (or even just into high school). Doing stunts camp gives kids a huge boost in confidence and self-esteem.  Imagine jumping off a 30-foot drop (safely, of course). Now does try out for the play or the football team seems like that big of a deal? No.  They'll work on their sense of independence, adventure, and performance skills while at Pali Adventures. 
Types of Stunts 
While at camp, your child will have the opportunity to find their stunt niche. They'll try what we have to offer, then pick something to perform when it comes time. They can choose between… 
Sword Fighting 
When there's any form of hand-to-hand combat in the movies, you're seeing a skilled stunt professional. Most of the time, if the fight is intense, it's some sort of green screen or body double. If they can get away with using a stunt person, they will.  That way they don't have to spend the time teaching the actors how to "fight" which is a long and potentially dangerous process.
Instead – they hire someone of the same size and similar features to do it. Then cut in close-up shots of the actor holding the weapon, for when we need to see their face. Our "swords" aren't swords at all.  They're LARP swords, that have some weight to them but are padded to reduce risk of injury. 
Rolls, Tumbling, and Falls 
There are two main sports where you need to know how to fall. Volleyball is one of them – when you're diving for a ball. Stunts are the second – you need to learn how to fall to make something look realistic, but without hurting yourself.  There's a proper way to fall from any position. We often see shoulder rolls in movies, when characters are trying to get up from a fight. 
We have a trampoline and tumbling mat unit where students can practice these skills. Think about how many times they fell when they were learning to walk. They got back up then – now we're just teaching them to do it with style.  In both a figurative and literal sense, this specialty teaches kids to always get back up when they fall. It's resilience that you can't build anywhere else. 
Plus – the agility skills they learn in camp can help them avoid injuries if they play sports at home – by learning how to minimize damage if they are to fall.  They may even find they have a new passion for martial arts, tumbling or other sports.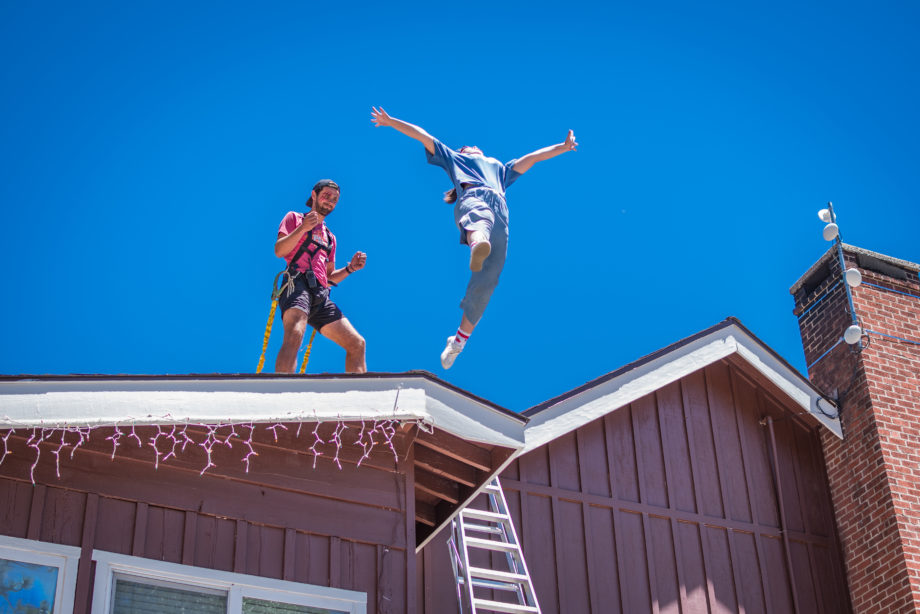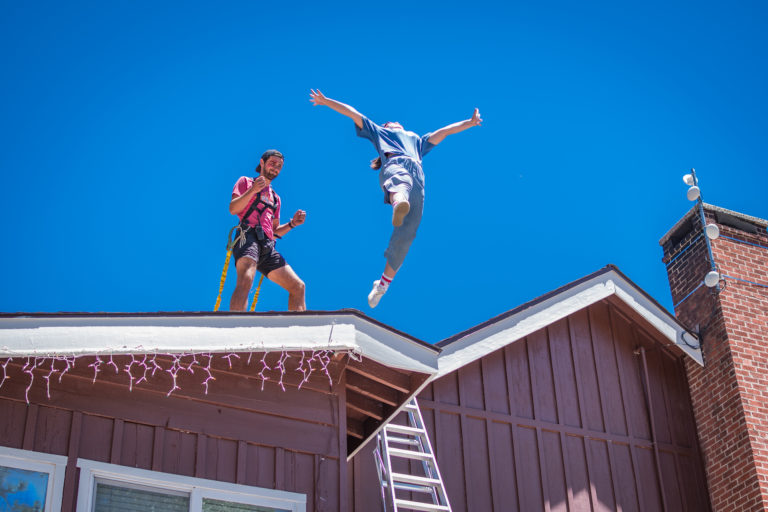 Learn to Choreograph Scenes 
The order of a fight scene and the sequence of events is important. For example, if you (pretend) punch someone, their head needs to snap in the direction of the "punch". If it doesn't, the fake punch looks, well, fake.  But there's also an order of events. For example, if someone gets knocked to the ground, they have to figure out a way to get back up and keep fighting.
Someone who's just been kicked over (again, fake) isn't going to hop right back up.  Kids will work on skills like these, practicing choreography and using their creative thinking skills to make sure the order makes sense. 
High Falls 
If you're in any way scared of heights, then this is the specialty to get you over it. Campers will practice jumping off platforms at assorted heights into professional-grade landing pads. There's nothing more exhilarating than free falling safely through the air.  It's the most terrifying thing to do at first, but after they master our techniques, they'll be begging to go to that pool with a high dive for the rest of the summer.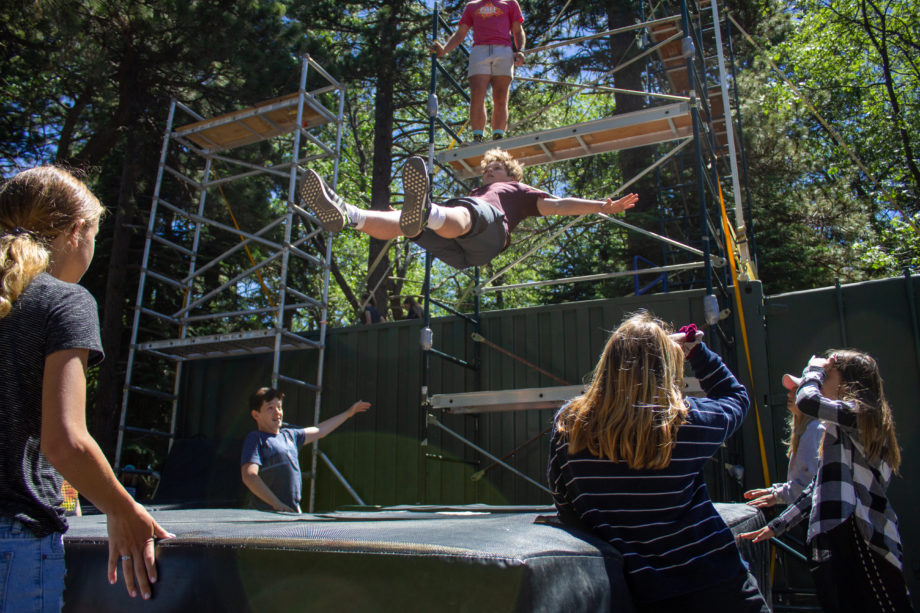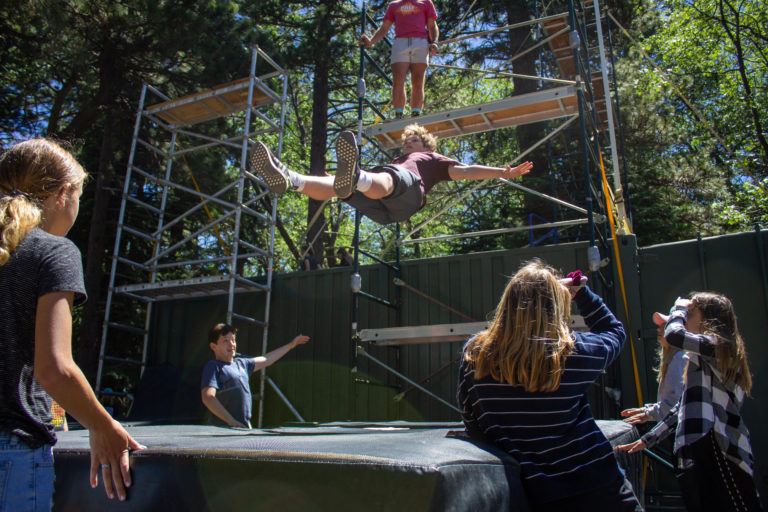 The Best Hollywood Stunts Camp in Southern California 
If you want your child to have the safest and most exhilarating time of their life – it's time to talk to a parent liaison at Pali Adventures. They'll walk you through what sending your child to camp is really like – and how it'll make you the coolest parent on the block. Want to learn more? Contact us for more information. 
Not What You're Looking For?
If this specialty didn't absolutely blow your mind, take our quiz or give us a call to find one that will!