Best Broadcasting Summer Camp in Southern California
Is your child constantly looking for mysteries to investigate and seeking knowledge everywhere they can find it? Do they show an innate comfort on-camera or are they constantly filming videos? If any of these apply, your kids could be a perfect fit for our broadcasting summer camp.
In addition to all the social benefits of experiencing a camp full of new friends, your kids will have a unique opportunity to jump head-first into the world of journalism and broadcasting. We're known as the best broadcasting summer camp around because our campers enjoy the wide range of experiences.
Learn About Journalistic Ethics
In today's political climate, journalistic ethics have been a constant topic of conversation, with accusations flying in all directions. While keeping politics out of the conversation, our journalism experts will give your child a crash course on journalistic ethics.
Campers learn about confidentiality and how to interact with their sources, ensuring that their information is accurate, and making attempts to get all sides of each story to provide an unbiased report. We also instruct campers on the conventions and etiquette for interacting with other journalists.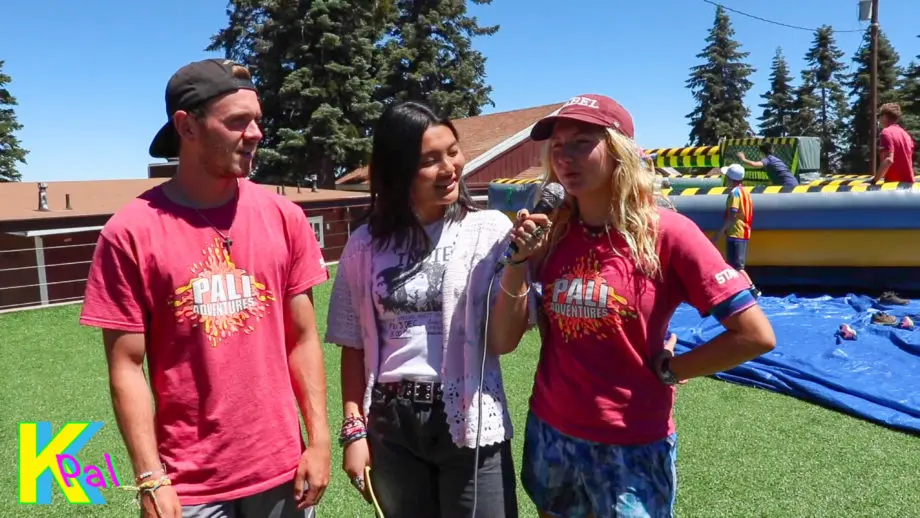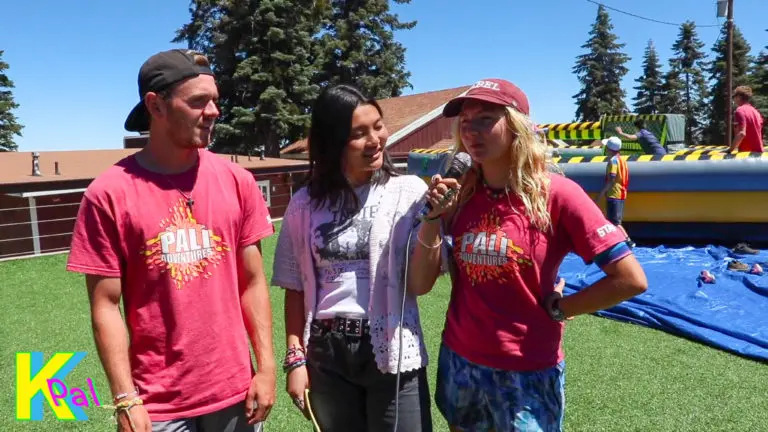 Research News Stories
What we see on a nightly newscast may just be a few seconds of content on each story. What goes on behind the scenes, however, is far more extensive. Participants in our broadcast camp will learn how to identify leads and investigate stories through various research channels.
They'll research stories about things that are going on throughout the camp as well as features and human-interest stories. Equipped with their new knowledge of journalistic ethics, your child will also learn how to investigate stories within moral limitations and while verifying the discoveries they uncover.
Gather Behind the Scenes Skills
For every person you see in front of the camera there are several more behind the camera who are making each broadcast possible. Beyond on-screen broadcasting skills, campers will learn about the various roles behind the scenes. Your child will be able to operate advanced video cameras as well as sound and lighting equipment.
They'll also learn other necessities like how to give direction during a broadcast, cue card techniques, and hand signals that broadcast crews rely on.
Conduct Interviews
As important as it is to seek out sources and find out what they know, it's sometimes best to interview the on-camera to get to the bottom of the matter. During our broadcast camp, participants will learn how to conduct on-camera interviews from start to finish.
They'll be able to identify key interview subjects and prepare questions that will pull the answers your viewers want. They'll also learn how to arrange the interviews, how to set up camera equipment and angles in advance, and how to conduct the interview professionally and productively.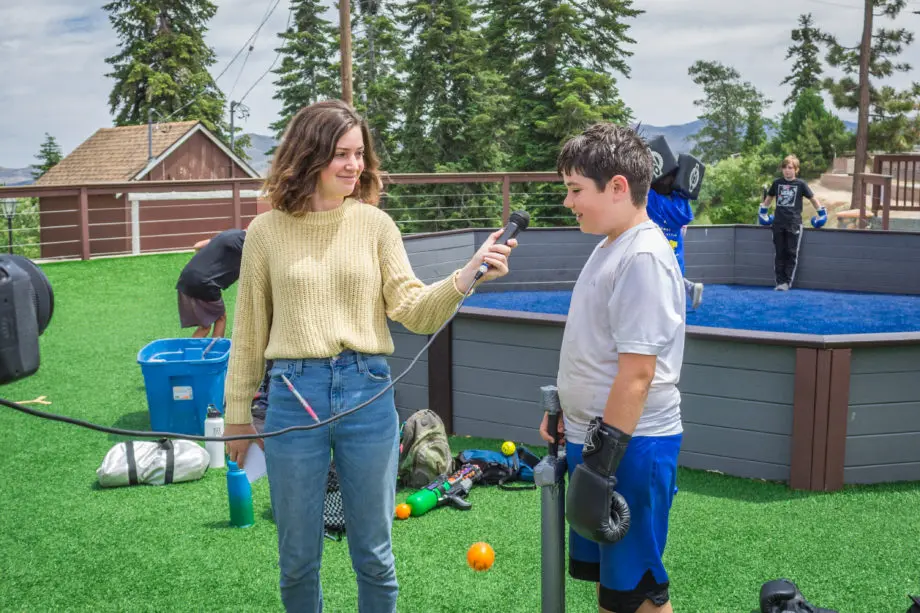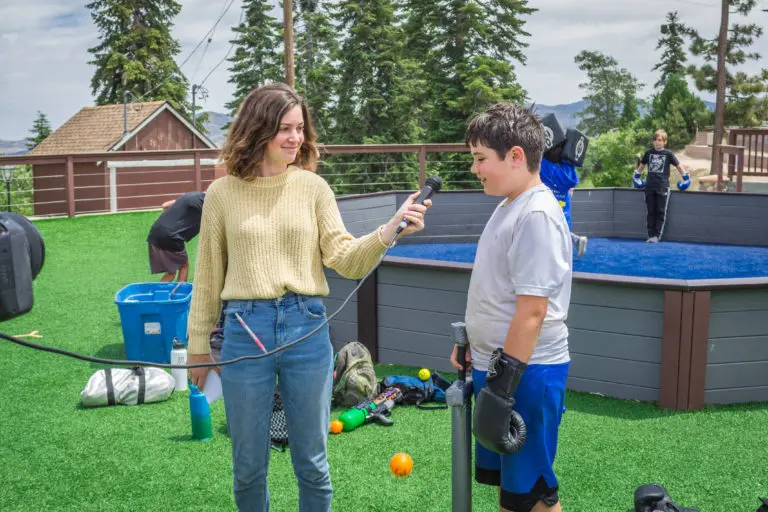 Write On-Camera Content
A child could write the best essays they've ever seen but writing content for a news broadcast is very different. Our campers learn the "upside-down pyramid" method for reporting and discover how to prioritize their content accordingly.
They'll be able to write for the extremely short time constraints that are necessary for news broadcasts while giving their viewers all the details they need to know. In addition, your child will learn how to choose their wording based on the way it will sound when the reporter reads it aloud.
Shoot In-Studio and on Location
To operate news cameras and sound equipment, our campers will learn more than just the basic functions. During a news broadcast, some segments are filmed in various areas within a studio while other segments are filmed on-location in places that are relevant to the story.
This can provide helpful background footage that gives viewers a better understanding of the story. However, this means the technicians need to know how to adjust to any type of lighting, unwanted noise, and more. Our campers at Pali's broadcast camp will discover how to shoot in any environment, including finding the best angles and filming sites in any location.
Work with Green Screens
Green screens present a unique challenge for both on-screen and off-screen professionals on a newscast. To give our campers a well-rounded set of skills, our Pali team will teach them how to navigate this important technique.
While behind the camera, your child will learn how to use the software and technology that displays the perfect image on the green screen at all times. In front of the camera, they'll learn how to use monitors to interact seamlessly with the green screen as if the image were already behind them.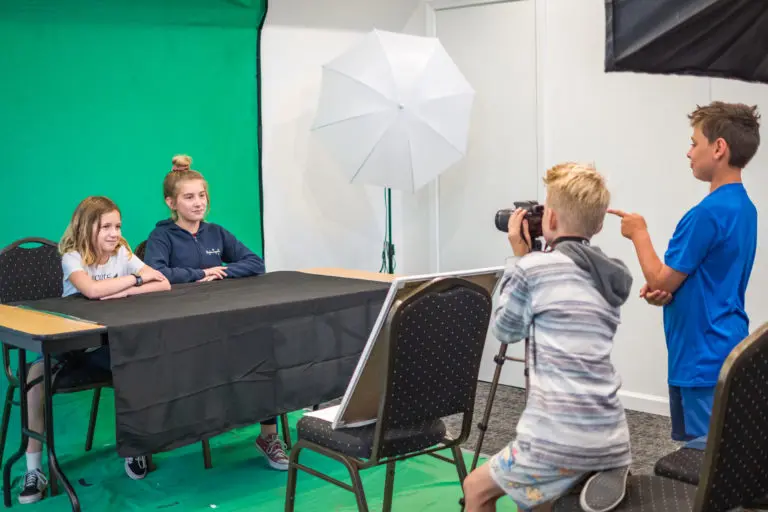 Create a Nightly News Program
As much fun as our campers have while learning the many skills that go into broadcast journalism, their favorite aspect of the camp is always creating a finished product. Each day, campers will put together a news program that showcases the most important stories and fascinating news from across the camp.
We broadcast the nightly news in front of the entire camp each night at dinner, so your child will experience the joy of watching others enjoy their work. By putting out a different broadcast each night, your child will be able to experience the tight timeline that every news crew must face, and the number of broadcasts also gives them an opportunity to try a variety of roles.
The Best Broadcasting Summer Camp
Broadcast new plays a vital role in our world. It keeps us all connected and up-to-date on issues that affect us and our neighbors on a daily basis. This is all depending on the skilled network of people in front of and behind the camera.
If your child wants to get involved in the exciting and fast-paced world of broadcast journalism, there is no better adventure for them to have this summer than to attend the best broadcast summer camp available. To give your kids the unique experience of learning how new broadcasts happen and the pride of putting together broadcasts of their own, just click the chat button at the right!
Not What You're Looking For?
If this specialty didn't absolutely blow your mind, take our quiz or give us a call to find one that will!